At Ambleside Family Optometry, our focus is to ensure we are able to provide a safe and comfortable environment for you, your family as well as for our team. We have taken the following steps to ensure a safe visit:
All patients will be asked to sanitize or wash their hands upon entry into the clinic
One patient/family will be booked per hour to allow ample time for the eye exam and frame selection if needed
All surfaces that the patient has touched will be disinfected
We will temporarily suspend completion of intake paperwork unless required by insurance
All staff and optometrists will wash/sanitize their hands before and after every patient encounter
All frames that have been tried on will be set aside and cleaned after each patient
Patients should attend appointments on their own or with one caregiver if required
We do not perform non-contact tonometry (air puff test) in our office
We continue to ask that patients who have travelled recently, are feeling unwell or showing any symptoms of illness postpone coming into our office for at least 2 weeks
If you have any questions at all please do not hesitate to contact us at: 780-752-5588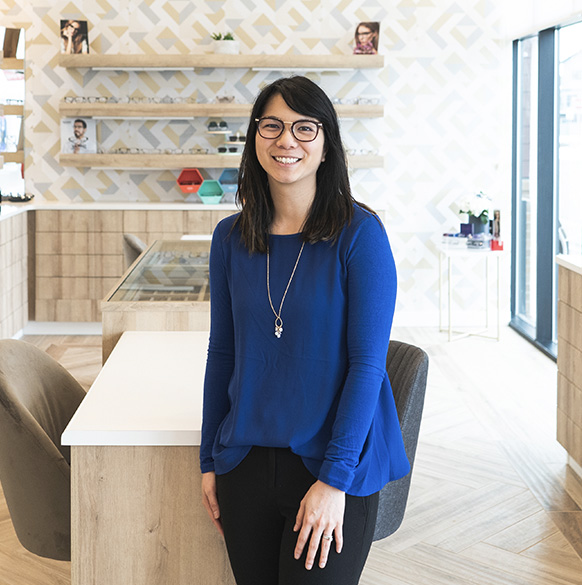 At Ambleside Family Optometry, we offer comprehensive eye exams for your entire family. An optometrist will assess your eye health to detect, diagnose, and manage eye diseases such as glaucoma and macular degeneration, as well as systemic health issues like diabetes and high blood pressure. Your vision includes more than just how well you see!
Contact us today to make an appointment with one of our Edmonton optometrists.
Geneva Fung
Owner, Lead Optometrist
Ambleside Optometry Gallery

Children should visit an optometrist to have their first eye exam between age 6 and 9 months, again at age 3 and 5, then annually. These visits are covered through Alberta Health Care.
Adults should be seen every one to two years depending on your eye care needs.
Seniors (65 and over) should be seen every year. Your visits are covered through Alberta Health Care.
*There are some tests that are considered to be optional and may not be billable through Alberta Health Care.

Almost everyone can wear contact lenses. Schedule an appointment with our optometrist today so we can understand your individual needs and help find the most suitable option for you.

A comprehensive eye exam is more than measuring your vision. Our Doctors of Optometry will also assess your visual system and ocular health to detect any issues you may not be aware of. Preventative care is important in maintaining your overall health, so think of a comprehensive eye exam like a "physical" for your eyes.
Frames
Come visit us in-store to see our ever changing selection of stylish eye wear and find out which brands are currently on promotion.
Check in Store
For Current Discounts
Lenses
Our manufacturers periodically offer promotions on their products. Stop in our store to find out more about our current offers.
Check in Store
For Current Discounts
Contact Lenses
Do you have a valid contact lens prescription & want to order more? We may be able to save you some time & ship directly to you. Call to find out how.
Check in Store
For Current Discounts